BIGENERIC ALLCHEMIST DREAMS & FUTURE TALES
Moto Music - Moto 017 Released 2020
Tracklist:
A1 Edger
A2 Wyer
B1 Streamers Of Corona
B2 Protoplanet
C1 Es Tamer
C2 Eltax
D1 Awer
D2 Zodiacal Light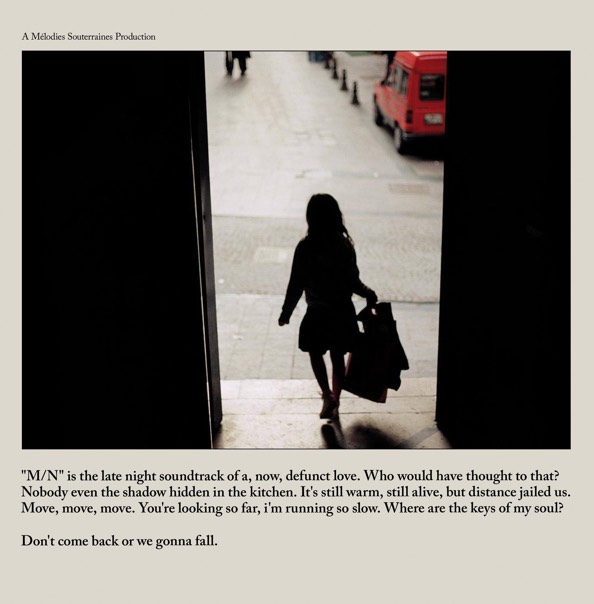 ** R.I.P BÄDU MC ANLIKER **
1957 – 2016 
YOUR SPIRIT WILL LIVE FOREVER IN OUR HEARTS –
THANK YOU MY BROTHER FOR ALL YOUR LOVE –
!RESPECT!
HOLD THE LINE !
 www.mokka.ch
**DANKE*MERCI*THANK YOU*GRAZIE **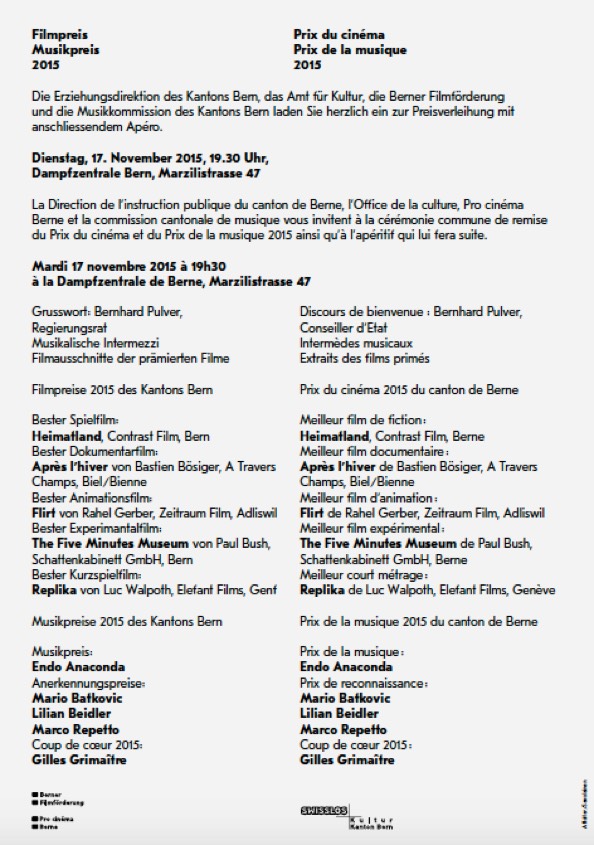 Please buy & support our global family & create PEACE !
25 tracks by international electronic music artists.
One goal: to help refugees in the Middle-east and on their way to Europe. Out November 12, 2015.
Preorder now:
http://refugeeswelcomemusic.bandcamp.com/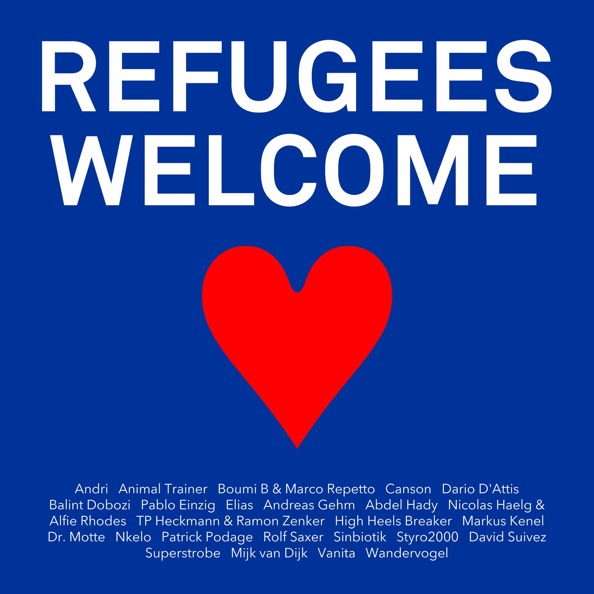 Alpenflage checks the pulse of the Swiss underground and reports back. This month with a very special feature on Marco Repetto of Grauzone.
In this episode we're taking a close look at one of Switzerland's most influential musicians, a man who has been at the forefront of forward thinking music in our country for more than three decades – Bern based producer Marco Repetto. He was among Switzerland's punk rock pioneers in the late 70's, landed a major new wave hit in the early eighties with his band Grauzone and their seminal anthem Eisbär and shortly after started experimenting with techno and all sorts of electronic music. Over the course of the last 30 plus years Marco Repetto has released countless records, including an album and two singles for Aphex Twins' label Rephlex Records and he remains a mainstay in Switzerland's underground to this day. Marco Repetto picked his favourite 15 tracks from his discography and is going to take us on a wild ride through more than 30 years of Swiss music history.
http://www.rbmaradio.com/shows/alpenflage-s02e11-marco-repetto
28.06.2014 Kiste Baden
Mastra & Marco Repetto live
Kiste Baden, Zürcherstrasse 1, CH – B5400 Baden
07.06.2014 Schatzalp Davos
Mastra & Marco Repetto live
26.04.2014  Zürich (private occasion more infos: info@inzec.ch)
Marco Repetto live
17.04.2014 Taxi Bar Bern
Benno Blome (Sender Rec., Senzen, Eramina), Berlin
Adriano Mirabile (Senzen, Stasis Recordings, Sirion Rec., Sinneswandel), Bern
Marco Repetto live (Inzec, Sinneswandel)
Taxi Bar- und Club, Speichergasse 13, CH-3011 Bern
28.02.2014 Kapitel Bern
Nachtfalter @ Kapitel Bern
DJ Paco
Marco Repetto live
Kapitel – Bollwerk 41 – CH 3011 Bern
http://www.kapitel.ch/de/clubkultur/programm.html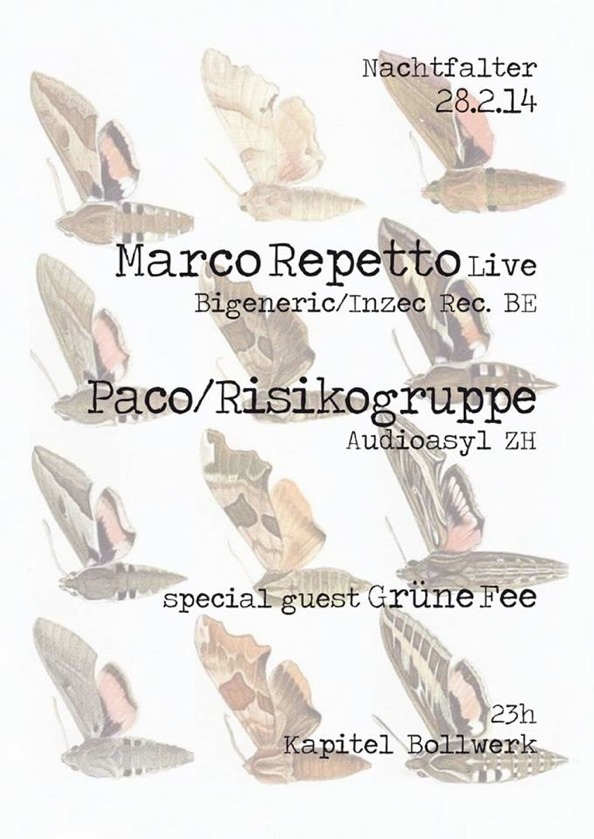 27.02.2014 Club d`Essay @ Dampfzentrale Bern
   21:00 Foyer Club
   Bruno Spoerri, Franz Treichler, Marco Repetto
   CLUB D`ESSAY
   Ein grosser Tisch, ein unendlicher Kabelsalat. Und dann ein Kollektiv von Elektronika-
   TüftlerInnen, die zusammen Musik aus dem Moment entstehen lassen.
   Das ist der Club d'Essai.
Dampfzentrale Marzilistrasse 47, CH – 3005 Bern
Podiumsdiskussion Berner Galerien Wochenende 2014
Kunsthalle Bern, 18.1.2014, 18.30
Das digitale Zeitalter in der Kunst
Marianne Burki, Leitung Visuelle Künste, Pro Helvetia diskutiert mit: Tom Blaess, Druckatelier/Galerie Bern, Philipp Gasser, Künstler Basel, Hélène Joye-Cagnard, Co-Direktorin Phototage Biel, Dr. Hansmartin Siegrist, Universität Basel und HGK Basel
Anschliessend Apéro und Klangkonzert von Marco Repetto Konzertbeginn ca. 20:00
January 2014……Marco Repetto is currently recording the next BIGENERIC album and more…
Last live performance in 2013:
28.12.2013 Dampzentrale Bern
Our friend and Bar-man «Housi» from the Foyer International Dampfzentrale Bern is on the move for new adventures. Let's celebrate in memories of all the good parties & events we shared with him in that great location. Good luck H!
Featuring: Markus Kienzl live (Sofa Surfers Vienna), Marco Repetto live, Dj Alex (Inflagranti), Dj Diferenz (Dubquest), Dj Mastra, Visuals by Büro Destruct.
Dampfzentrale Bern,
28th December 2013 from 9PM.
09.11.2013 Kaleidoskop Electronic Music Festival
Marco Repetto live 22:00 – 02:00
KiFF – Kultur in der Futterfabrik
Tellistrasse 118
CH-5000 Aarau